The Worx WG788 features an intuitive ignition system and IntelliCut technology to take any mowing job you need to get done. Moreover, it performs really good and can cut the grass very fast, and it doesn't need gasoline. Just drop in the battery, push the key, pull a lever and start cutting your grass.
The Worx WG788 is powered by a 36 Volt removable rechargeable battery which is powerful enough to mow up to ¾ acre on a single charge. The IntelliCut technology allows you to dial the motor up when you need extra power or dial it down for quiet operation. The 3-in-1 feature lets you mulch, discharge or bag, and this model emits zero emissions since it's battery powered, so you won't need gasoline or oil to make use of it.
Summary
The Worx WG788 has some advantages over traditional, gas-powered motors. You won't have to prime the engine and wrench your arm out of the socket with a pull-cord. You just have to turn a key and pull a lever to start it up.
You don't have to buy and store gasoline and oil in your garage so there won't be messy oil leaks to clean up since it operates with a 36 Volt Battery, and this comes with another advantage: you will save money. The cordless operation releases you from worrying about tripping over or cutting a power cord.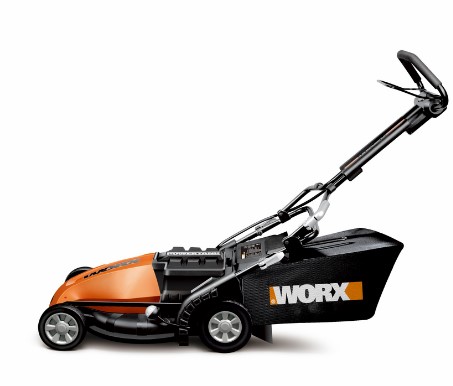 The battery can run for up to one hour or 18.500 square feet per charge which makes it ideal for large yards with thick patches of grass. Moreover, you can store the mower in an upright position, so you won't need too much storage space. It also features three options for grass handling- side discharge, mulching or bagging.
The 19-inch blade provides a professional looking cut and you will have to make fewer passes, so you will save time, and if you want to save even more time, don't worry, the IntelliCut technology can increase the torque when you are mowing thick or wet grass, but it can also be switched into quite mode so you can cut grass early in the morning without waking your neighbors.
Specifications
As we've mentioned earlier in this review, this model comes with a removable, rechargeable 36 Volt Battery that can last for an hour of mowing time. It has six cutting heights ranging from 1.5 to 3.5 inches and the IntelliCut Technology to increase torque or switch to quiet mode when needed.
It also features an intuitive start system that operates in a two-step process: Push a key and pull a lever. As we also mentioned above, it features three grass-handling options: side discharge, mulching and bagging so you can use the best suitable for you.
Since the Worx WG788 doesn't need gasoline or oil, it emits zero emissions and has no fuel costs. It needs little maintenance and can be stored easily.
Dimensions 38.6 x 15.5 x 22.8 inches
Power 36V Removable Battery (Inc. 1 battery)
Charge Time 16 Hours to 100%
Deck Size
(cutting swath) 19-inch
Mulch/Bag/Discharge Mulch, bag, and discharge
Cutting Area up to 1/2 acre
Runtime charge
(conditions may vary) up to 60 minutes
Drive System Manual Push
Starter Key + Push button
Height Adjustment Handle (6 positions)
Height Settings 1-1/2- to 3-1/2-inch
Wheel Size 8-inch front / 8-inch rear
Weight 87 pounds
Warranty 2 years
The WG788 makes mowing easier. It's easy to start, it's easy to maintain, it needs no gas nor oil, it needs little storage space and the IntelliCut technology can adjust torque or switch to quiet mode.
Description
This cordless model eliminates the problem of tripping over bulky power cords when you're mowing, or causing them potentially serious damage. It's powered by a 36 Volt rechargeable battery that can last for 1 hour and cover ½ or ¾ acre. The battery can be removed for charging and has a power level indicator, and as we mentioned earlier, you will save a lot of money since you won't have to buy gasoline or oil and the maintenance costs of this model are very low.
The 19-inch blade span allows you to cut more grass in a single pass so you will save time, and the wider strips makes for a smoother and professional appearance. The deck itself is made of plastic so you won't worry about rust and makes the WG788 lighter in weight, weighting 87 pounds only, so it can be easily tipped up for cleaning.
The IntelliCut technology ensures you will always have power when you need it. Just set the dial to power when you're cutting thick, tall or wet grass and you won't have problems with mower bogging down or stalling. It will also allow you to cut grass in the morning without disturbing your neighbors thanks to the quite mode that also saves battery power.
This model can handle all types of grasses of various heights and thicknesses and a single charge of the battery can run for 18.500 square feet. Cutting height ranges from 1.5 to 3.5 inches and the three grass-handling options allow you to discharge clippings out the side or mulching them down into the lawn or bagging them for disposal. The intuitive starting system consists in turning a key and pulling a lever so you won't have problems to start it up.
The handle is padded to provide a firmer grip and eliminating vibrations that can lead to sore muscles and fatigue. The handle can also be folded down to save space.
Pros
Patented IntelliCut Technology and intuitive starting system: this is the most popular feature of this model. Jut set the dial to the power mode to increase torque when cutting difficult areas, or select the quite mode for normal conditions. The last mentioned mode saves battery power and decreases the sound produced by the machine so you don't disturb your neighbors while you cut the grass early in the morning.
36-Volt removable, rechargeable battery: the WG788 holds enough charge to let you mow for one hour and cut up to 18,500 square feet, and also makes this mower an eco-friendly mower, and moreover, as we have mentioned before, you will save money since you won't have to buy gas or oil.
6 height settings and 3 handling options: This model features 6 height setting ranging from 1.5 inches to 3.5 inches, but we recommend you to not cut more than ½ the length of your grass to maintain a healthier lawn. The three different options for handling your grass clippings are:
Discharge out the side to keep the clippings off your legs, mulch clippings back into the lawn, or discharge into a bag.
19-inch easy-maintenance deck for faster mowing: This deck is made of plastic so it's rust-proof. The 19-inch cutting diameter will allow you to plow through rough patches in one pass, and the wider cutting-area will make you move faster.
Low-Maintenance, light weight, easy storage: since it's an electric model, you won't have to change oil nor tune up the engine. The plastic deck makes this model very lightweight, it only weighs 87 pounds indeed,, and it's also easy to store. Moreover, it comes with a 2-year warranty and that's great since most of the mowers in the market come with a 2 months warranty.
Cons
First, despite it weighs 5 pounds less than most of the mowers in the market, it can be difficult to maneuver sometimes because of the weight of the battery.
Battery loses capacity over time: the battery doesn't accept the same charge as it becomes older, and eventually requires multiple charges to be able to mow the full lawn so we recommend you to buy some additional batteries. However, Worx customer service department is happy to replace batteries when you contact them. We recommend you to charge a completely drained battery during 9 to 12 hours and then remove it from the charger to prolong battery life. On top of this, the battery also seems to lose charge too quickly depending on the conditions.
It bogs down in wet grass: This happens because this mower isn't as powerful as a gas-powered model, so we recommend you to wait until the grass is dry or mow more frequently to avoid bogging or stalling. Landscaping experts also recommend to never cut more than the half of the length of your grass to keep a healthier lawn and help eliminate bogging or stalling.
Difficult to get replacement part, repairs: some customers have complaints about the slow shipping of replacements. However, this happens when Worx doesn't have the replacement part available at that time, so we recommend you to take care of your mower, and the battery especially. In case of a repair, Worx will refer you to an authorized repair facility but it can take some time since they're working on other mowers also.
There have been no complaints about the IntelliCut technology or the two-touch starting system.
Conclusion
The key feature on the WG788 is the IntelliCut Technology which allows you to increase power and torque to cut grass of large size or switch to quiet mode if you want to cut the grass in the morning while your neighbors are sleeping. The 36-Volt battery provides enough power to cut up to ½ acre of grass. We recommend you to try to do your best to prolong battery life, so try to recharge it during 9 to 12 hours and then unplug it from the recharger. Some users reported that they were able to cut one full acre on one battery charge in quite mode, so this proves that this mode saves battery power.