Introduction
A beautiful house in a quiet neighborhood with lush green surroundings completes an ideal living space for people in rural areas. Flowers along white picket fences on the lawn adds vibrancy and character to the house. Yet for some, it is such a challenging task to maintain the lush green and well-trimmed grass without the proper instrument. Whether the size of the land is a medium to a large area for upkeep, it is time to decide on investing in a proper riding lawnmower against the traditional push lawn mower. What better way to start than exploring the reputed best riding lawn mower. From the makers of high-quality garden tractors that have been around for several years surpassing, again and again, their previous premium pieces, comes the prestigious and good looking Husqvarna YTH24V48. Husqvarna is known for top quality models from materials to its full construction. They give assurance to their happy clients to have both efficiency and convenience.
Just in most products, buyers look through three important aspects that highlight a deserving choice. It revolves around versatility, reliability, and affordability. This can be inspected on the featured parts, the innovation of performance and price range among others available in the market.
The mark of excellence among Husqvarna products reflects from the high-quality materials used to create functional and durable key parts of the tractor. The machine with an air induction mowing technology has electric blades in sets of three that can give terrific cut quality each time. It is electronically controlled with a maximized air flow system that surrounds the cutting deck to give precise power and control over the whole blade assembly.
Performance
Ever experience discomfort and back aches on hours and hours of using the push mower or riding the traditional lawn tractor? Then this product is definitely the only choice for you. The product even offers such comfort to the operator with features like an ergonomically patterned wheel to steer easily while being hoisted on the adjustable spring supported high back seat together with an armrest. It can be adjusted to multiple heights to make it possible for you to cut in different styles and shape. Suitable for experts or even novices conquering a wide or medium sized lawn, it will definitely bring out the discipline and artistry of a good gardener.

In days where the sun shines brightly among the wide land area, the operator may still enjoy the task cruising on a straight line even for long periods of time because of the easy control option. It directs a considerably little but efficient steering wheel that snaps in on remarkably good fitted wheels placed at the back and front of the tractor.
This unique design gives the operator good control and can help maneuver the machine to make even the tiniest turnabout. Such power and precision owing to the 24HP Engine a variety of Briggs and Stratton V-Twin OHV model.
All this while enjoying refreshments like a beer or water as it includes a conveniently placed cup holder at the driver's right side.
The engine runs smoothly with just 3 gallons to mow a 3-acre land area without the need for fuel refill. A warning gauge on low fuel indicates the time to add more after several hours of non-stop operation
It is complemented with a pedal easy to use that works on a hydrostatic style of transmission. Special features include several forward and rearward actions and remarkable traction on the wheels when manipulated among a steep terrain. This very good looking machine has a superb and durable cutting deck that helps you cut grass whether in the dry or wet season. In contrast to other lawn mowers that pose a great challenge to operators in handling wet grass from rain or due, it is useful to go over varied conditions of the lawn.
Price
In a highly aggressive market for less costly items yet extravagant worth, the riding tractor is within the $1500-$2000 coverage. This is a reasonable expenditure and very much well within the budget for middle to the higher class level of individuals that take seriously the concept of getting your money's worth in every purchase. On top of that, the size of this mean machine lessens the mowing time which means you get both products worth with customer satisfaction keep right the principles of the economy on time and money.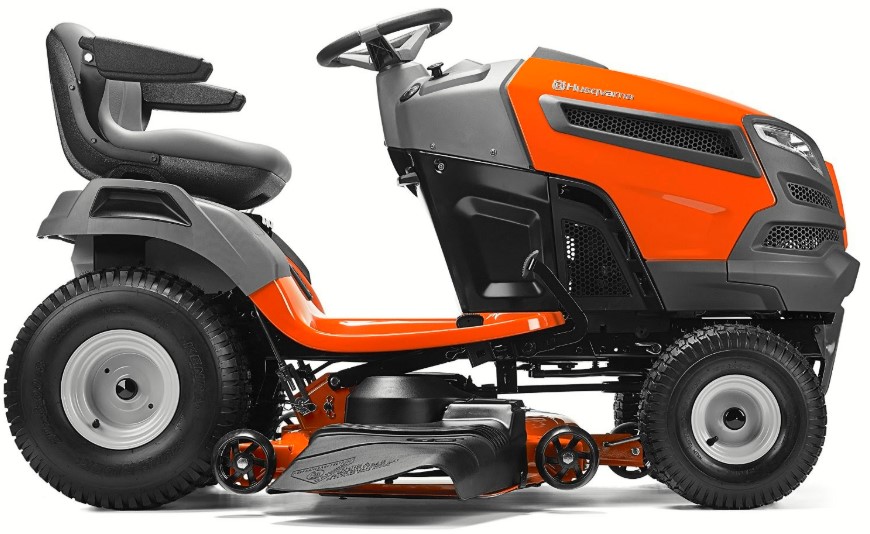 Husqvarna lawn mower tractors are designed with high-class materials to give esteemed performance yet the compact size can occupy only as much space you can spare. This makes it easy to keep and pull up when there is a need for its services. In truth, higher priced models could not even give this much comfort to the operator and efficiency on performance as the Husqvarna model.
With over a hundred designs and models in the market, one may think it is all similar in function and value. But in contrast, Husqvarna Fast Riding Lawn Mower Tractor YTH24V48 was given the title as The Best Gas Lawn Mower, its special features circles on the air inducting technology for top-notch cutting operations with precision control and four 3.5 in wheels with an anti-scalp deck that protects the trimmed lawn from other damages. It can handle bigger land areas on a speed capable of scaling steeper hills but safely trudge on a state of the art traction ability design.
With its extra comfortable seating comparable to much more costly models, to the magnificent cutting deck and the hydrostatic transmission with marvelous pedal functionality, this machine will make your cruise along with ease and style.
So whether for an upgrade, on a hunt to change your present push mower or thinking on investing in a reliable yet affordable riding gas mower, Husqvarna YTH24V48 is the best choice for all. Most consumers call it a savior, freeing them of the tedious task on long hours with challenging traditional tractors. This machine cuts back on time for May it for personal use on your vast green surroundings or commercial and business use for multiple jobs each result will be excellent!