The Scotts 2000-20 is a lightweight push reel mower powered by you to perform at its best and give your lawn a fresher, healthier look.
It handles even thick turf with ease and a quiet pollution-free operation. Now you can have complete control on your grass with convenient and more enjoyable mowing equipment.
Perfect for people who…
This is great for smaller yards. And without the noise of electric mowers and the hassles of gas, this is a great way to mow your lawn without annoying your neighbors. It is also safe and easy to use for anyone in your home. It not only saves you money from maintenance expenses but more importantly saves your precious time and efforts.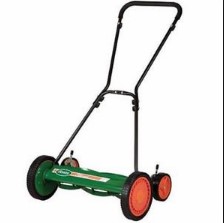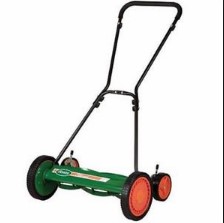 Operation and Functions
It features 10-inch dual tracking wheels and rugged radial tires for easy maneuverability so even if you have to push it around, you can barely feel it. With no heavy batteries or motor, it performs great without the extra weight.
This innovative dual tracking wheel technology eliminates drag and makes it easier to push the mower even on tough terrains.
You can choose from 9 grass heights and you can set it from 1-3 inches simply by a quick-snap height adjuster function. This means you can get precision cuts with a fingertip control.
Ease of Use
It is very easy to assemble with no tools required. You can start mowing your lawn in a few minutes after taking it out of the box.
The handle is a loop style with foam grip which provides added comfort and also enhances your mower's maneuverability making it practically effortless to have your lawn looking healthy in no time.
Power, Design and Quality
It has 5 heat-treated steel blades which are ultra sharp to give you easy accurate cutting and efficient operation.
It has a wide cutting path – wider than average 20-inch cutting width which reduces time and effort on your mowing. This way, you don't have to keep passing the same area even in bumps or uneven patches.
It is designed with smooth ball bearings and the blades spin efficiently as you push the mower. Each blade slices through grass with precision and power leaving fine mulch.
The blades require very little maintenance and its heavy duty steel design is built to last so this is great for long term use. It also has a two year warranty.
It includes the Scotts 2000-20 mower, the handle, and composite wheels.
Scotts 2000-20 Pros
Very quiet operation
Easy to use, assemble, and put away
No pollution
Low maintenance
Very safe
Easier handling than that of gas mowers
Scotts 2000-20 Cons
Not recommended for thicker grass like Kentucky Bluegrass
You may have to remove sticks that gets into the blade but all you have to do is pull it out
You would have to put a little more effort on weeds or taller grass
Conclusion
The Scotts 2000-20 push reel mower is quite a powerful alternative to gas mowers without the hassles and extra expenses in gas. It performs great with very little maintenance and is perfect for smaller yards. It is safe and easy to use which could make your mowing experience more enjoyable while it is also a good workout.
Despite not having a motor, it cuts quite fast with a little more push so it could save you a lot of time. And since it is very quiet, this is not only good for the environment, it is also great for your neighbors as well as your ears.