Honda made a name for itself by producing high-quality appliances, and this mower is a good example of that. The Honda HRX217K5VKA takes profit from a potent motor, sensitive self-propelling mechanism and a spacious clipping bag to give as result the ultimate gas-powered mower available.
This is a powerful model that slices grass and mulches it properly. The self-propelling system is a bit hard to understand, but it allows the machine to move swift and smooth, and you to do your task in less time.
PRO
The adjustable drive is powerful.
CONS
You have to adjust the wheels one by one.
Honda made a name for itself by producing high-quality appliances, and this mower is a good example of that. The Honda HRX217K5VKA takes profit from a potent motor, sensitive self-propelling and a spacious clipping bag to give as result the ultimate gas-powered mower available.
The Honda HRX217K5VKA works fine, giving as result a smooth, regular turf. This is mainly due to the exclusive Micro-Cut blade. This utilitarian knife has four cutting faces, instead of the common two. This way it chops the grass up into little shreds. This makes the Honda HRX217K5VKA an exceptional cutter and mulcher, helping you with less piling and less removing.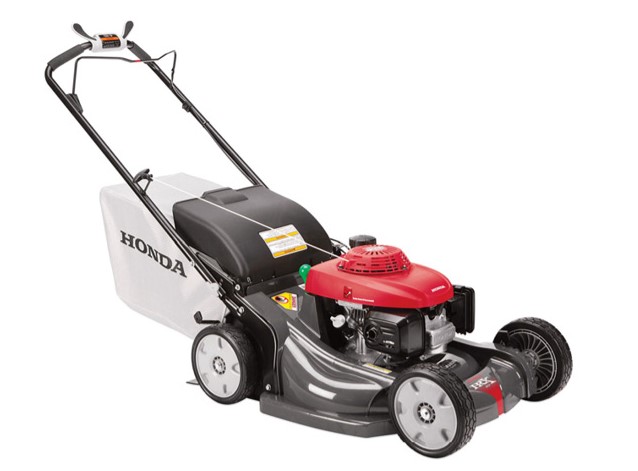 Finer grass gives the chance to store more in the spacious 2,5-bushel, 3,1 cubic feet discharge bag. Mower bags usually have only space for two bushels. But this model's bag is properly angled, letting you fill it to the edge without affecting the blade. The drawback of this comprehensive bag and its capacity to be fully loaded is that it will become pretty heavy when you take it out for voiding it.
This push model has a common 21" of cutting path, and wheels don't press the lawn too deep either, so it leaves few to overlap at each pass. Fuel mowers have an average noise emission among 90 and 100 decibels, and the Honda HRX217K5VKA is kind of noisy as well, emitting about 98 decibels when we tried it. It's not surprising for such a big motor, but using ear protectors, you must be able to work with it for a long period of time without making any damage to your ears.
The Honda HRX217K5VK's blade can be adjusted at seven different heights. The lowest one is 0,75 inches, and the highest is four inches. The height range is the same in all models of this series and give you a handful of alternatives for type of loan and height desired. Unluckily, you must adjust the level wheel by wheel.
One of the greatest things of this mower is the back-wheel self-propelled driving system. Different from any other mower of this kind the Honda HRX217K5VKA is fitted with an adjustable drive mode that you change with a thumb lever instead of the usual handle. These controls are placed right in the middle of the handle bar, and you can set them according to your angle needs in order to fit your ergonomics and feel comfortable while pushing.
The controls are press-sensitive, giving you the power to choose the grade of impulse required. This feature is a bit hard to understand at the beginning and it could drag you along with it sometimes. The angled grip is wrapped with a thin rubber that minimizes vibration and arm weariness. Its motor works softly, so vibration is not that serious for a mower of this kind.
Mulching is maybe the major asset of the Honda HRX217K5VKA. It takes the process to another level. The brand created a system that lets you choose the amount of clipping that is thrown away. So now you can control how much grass you want to be spread on the surface instead of a yes-or-no selection. It is also suitable to use during autumn to crumble leaves without an extra addition, giving you less job removing them.
This fuel-powered lawn mower is noisy indeed, emitting about 98 decibels when working. If noise matters to you, you should get a Craftsman 37744, giving only an 85-decibel level.
This model is a big machine, weighing about 96Lbs and having a 190cc motor giving a lot of potency to effectively mow and mulch all kinds of grass. One of the exclusive functions included in the Honda HRX217K5VKA is the shaped skirting around the cutting deck that prevents clippings from scattering to the sides. Though the skirting visually gives extra size to the mower, in fact it doesn't exceed the space of the wheels.
The handle is preset at 41" tall. Ideal for average tall users to feel comfortable while pushing it. The handle engages and bends down easily, due to a fast-release coupling at its base. You can set the handle at three levels, allowing you to select the height of the handle.
Unluckily, this model doesn't have a side throwing option, but it does have outstanding mulching and bagging options that hold shredded grass and relief your raking job. The powerful motor loaded into the Honda HRX217K5VKA is EPA and CARB compliant and can be used in 50 states, so you can feel confident knowing that you are mowing your lawn legally. Moreover, this motor has an automatic choke mechanism, removing the need of a difficult startup as usual in smaller or older fuel-powered models.
The brand gives a 5-year warranty on the HRX217K5VKA for manufacturing issues and parts. This is much more than the common 3-year warranty we are used to find in other model brands in our reviews. Whenever you have any issue with this product, you can call Honda or send an email to receive answers or ask for official Honda replacements.
You can search the Honda webpage for official Honda repair stations or part dealers near your home. You will save a lot of time driving around or searching on Google, getting the required service as soon as possible. You can download the user manual as PDF even before buying the product.
The Honda HRX217K5VKA is one of the best choices for a gas lawn mower in the market. Though it is bigger than most models, this convenient and easily maneuverable machine is ideal for medium to large areas to mow. The dynamic sensitivity of the self-propulsion and big capacity of the grass bag minimize the time and effort of the mowing job. This Honda model is a great option for people who are looking for an effective, powerful push mower that will provide many years of service when handled with care.