Why to purchase a Poulan Pro lawn tractor?
Many customers are just looking for a quality, dependable riding lawnmower at a reasonable price. The common user doesn't want to pay for a prestigious brand and its history, but wants the great features and high performance they offer.
There are some markets where the number of companies is way shorter than the number of brands. So, it is in the mower market. The famous Swedish company Husqvarna is the manufacturer of all Poulan Pro riding mower (made in the US, not in Scandinavia!). So, if you go for a Poulan Pro riding mower, you'll be purchasing Husqvarna quality at a much lower price.
And let's be frank, that's what you and I care the most. Our properties might be small city size to some two or three acres and we need the highest cost-effective machine to mow our lawn for us. A machine that performs as it should but doesn't cost more than it should.
Then, Poulan Pro has a perfect option for each kind of need. And what's the perfect option for you? That's exactly what we are going to discuss in this article about the best Poulan Pro lawn tractor models for 2019.
The first tip I give you: if what you really care is the cost-effectiveness ratio, it definitely matters that you do you own lawn mowing. Upkeep costs are an important factor of the total cost of the product in the long term.
Mowers are rather simple devices and don't need a high-tech or expensive kit to upkeep them. They are actually an amusing method of learning mechanics and save on service if you purchase the parts and resorts and do the maintenance yourself.
Poulan Pro makes it easier in this aspect since you can find and get all parts online by Home Depot, and many of them are basically the same as Husqvarna and Craftsman. It provides a normal 2-year warranty on the product and has a chain of repair stations if you have any issues with the mower and want it to be properly serviced.
Poulan Pro PB301 Review
A highly effective rider
The Poulan Pro PB301 Rider, numbered 960220027, is a rear-propelled basic compact lawn tractor meant to provide the most effective mowing method for your lawn while you barely use your legs. And it works that way. It has a single blade deck that cuts amazingly. It is the only Poulan Pro lawn tractor listed as standard, fitted with a mulching system. You can only get it at Home Depot.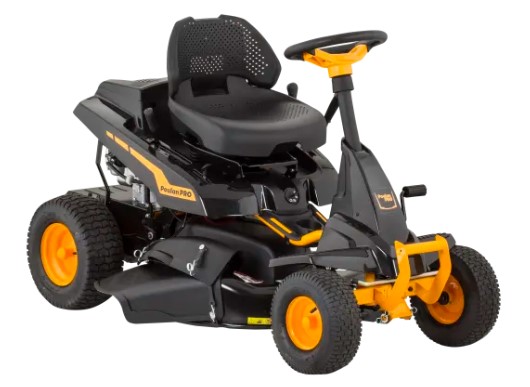 Engine
It lodges a 10,5HP 344cc Briggs & Stratton single-cylinder motor that provides a huge amount of power for a tiny 30" tractor that barely weighs 294 pounds. Whether it is mulching or discharging, it is just 45" wide.
Along with the fast and harmonious maneuvering it features a reverse mowing speed, so that the mower can go almost as far and wide as a push mower does… And you don't have to push it. It is narrow enough to trim beside a flower bed and can go through any door.
Deck
This small Poulan pro model has blade height options from 1,5" to 4" in 4 levels, similar to other urban lawn tractors. A manual blade adjustment and the sturdy four-speed transmission are ideal for a dependable lawn tractor for a small residential lot, as we already said. And these two controls are within reach at both sides of the seat.
Former mowers had automatic transmission just like every Poulan Pro lawn tractor, but Husqvarna used a very poor transmission for the model previous to the PB301, and later they changed it for the sturdy four-speed. However, you must shift it delicately, since it tends to tremble if you change the gear precipitately.
The PB301 runs perfectly well if you only use it a few times a week for mowing half an acre. It is highly recommended for narrow lawns where you have to maneuver around stuff, and particularly recommended for newbies.
It includes a bagger, and a cupholder as a fancy feature (and that is the only fancy thing this machine offers).
Poulan Pro PP175G42 Review
A basic riding mower
The Poulan Pro PP175G42 (numbered 960460075, or 960460076 that is the CARB- version) is the most affordable option for an actual Poulan Pro riding mower that lodges the motor in the front covered by the bonnet. It is also the most affordable riding lawn mower that is not feeble or inefficient. You can get it only on Home Depot.
Engine
It has a 17,5HP Briggs & Stratton 1-cylinder motor that provides the power required to mow moderately large lawns and even to propel carts and other light additions. It starts up with a key, the same one needed to mow in reverse (a useful function that most riding mowers lack, even pricier ones, but each Poulan Pro has). It has six forward speeds to choose from and no pedal to speed up.
The motor is the only feature that separates the PP175G42 from the costlier PP19A42, featuring a 19 HP engine.
Deck
The metal 42" cutting deck is fitted with two blades and that can be set at six height levels that come from 1,5" to 4". Unlike fancier mowers, it lacks anti-scalping wheels, so it is preferred to run it on even ground rather than hilled or irregular ground which this machine falls short of power for, nor has enough forced motor lubing. It also lacks mulching blades, just like all P Pro riding mowers, but you can still get them from Poulan or from other companies.
It has a turning radius of 16" which is quite small but not as small as the 6" that many pricier P Pro riding mowers have. Currently the PP175G42 has headlamps that were not available until some time ago.
The Poulan Pro PP175G42 requires assembling. You must have realized from the specs that the manufacturer provides, that you have the option to do it yourself with the proper tools, or to ask for an assembly service. The instructions explain that you must have four different pipe wrenches, clamps, a pocket knife, and a pressure gauge. I tell you this so that you can imagine the effort that the assembly process means.
If that's not enough reason for you to refrain, you will be enjoying a quality riding mower for terrains up to 1 acre at one of the best prices available.
Poulan Pro PP20VA46 Review
The riding mower recommended for most common users!
The Poulan Pro PP20VA46, numbered 960460079, is our top pick for users looking for the highest cost-efficient lawn tractor but can't commit themselves to make a big investment, and also are willing to shop at Home Depot, since it is another mower that Poulan Pro sells only on this site. The Poulan Pro PP20VA46 has 46 inches and is ideal for owners of up to two acres.
Engine
Fitted with a 2-cycle B&S engine that provides 20HP out of its 656cc, this mower can deal with any job that riding mowers handle. More or less all mowing jobs that don't require ground engaging. It has forced internal lubing, that way it runs on slopes and is still oiled.
It starts up with a key and features Poulan Pro's Ready Start, that make playing with chokes an obsolete task. Velocities are controlled with a pedal, so it's like driving a car. The auto CVT transmission helps with that, since you don't need to shift gears to change the speed of the machine. Anyway, there is no way to maintain a continuous speed while using a foot, since it lacks a cruise control.
The Poulan Pro PP20VA46 features a great CVT transmission that allows it to mow on slopes and dragging heavy things. It has as well the awesome reverse mowing speed, that you control with another pedal placed at some distance from the main speed pedal.
Deck
It comes with a 46" stamped-steel floating deck that has been strengthened to be more durable than the standard stamped steel that more economical machines have. It has vents on the top of the deck where the air comes through, and allows the air current to blow beneath the deck in longer grass. It comes with four anti-scalping wheels that prevents the lawn from getting cut too deep, even when it is irregular. This deck really pays for itself!
And above all, a waving front axle with six inches of turning radius makes this affordable machine with a decent deck be almost as good as zero-turn units in terms of turning radius. A riding mower that weighs 428 pounds and almost turns on a penny.
We recommend you this option if you are looking for a riding mower without problems that can cover a large area and irregular ground with slopes and will provide many years of service.
Poulan Pro PP24VH54 Review
The Poulan Pro PP24VH54, numbered 960420206 provides all of the features that P Pro's more affordable lawn tractors such as the said PP20VA46 offer, but also features one of the biggest decks any riding mower has: an enormous 54 inches. Such a large deck makes 3-acre or larger lawn mowing easy and fast, and still for a relatively low price.
But remember that wider decks give a more irregular cut from side to side, so going for a wider deck is actually a matter of need. Size is not always what matters. Measure the areas where you are going to pass through with the mower, and keep in mind that the unit is 60 inches wide when the chute is down.
Additionally, this model is not exclusively sold through Home Depot. You can also find it on Amazon, for instance.
It is good to have a big and comfortable seat with a 15-inch tall back support when you have to mow for long periods. It really makes it easier to stay sitting for a long time without the need to move. A feature that could be added is a cruise control that would let you rest your right foot during lengthy jobs.
Engine
It is powered by a 24HP B&S 2-cycle OHV motor with forced lubrication system, which is more than enough propulsion for any ground. It comes with a Ready Start which makes starting up the engine as simple as starting your car.
The Tuff Torque K46 hydrostatic transmission is controlled by a gas pedal similar to a CVT. But here the pedal is not so high, so you won't have to put your foot up like with CVT pedals. This kind of transmission is usually seen on zero-turning models, but the Poulan Pro PP24VH54 is much sturdier than the standard compact Hydro Gear EZT applied for home zero-turnings.
More economical riding mowers have a spring-aided deck engagement that allows an electric clutch engagement mechanism that you control by pushing a button for connecting or disconnecting the blades, so you don't have to manipulate a lever close to the steering wheel.
Deck
The 54" tri-bladed floating deck comes stamped and strengthened and comes fitted with a vent. You can adjust it in six levels and has four anti-scalping wheels and a nose roller that maintains it constantly even. This machine allows you to mow frequently up to eight inches and obtain a smooth cut. The motor is that powerful!
It tosses the cut grass about four feet, so you can make sure that no clumps will be left. When you mount the tri-bag bagger (that you can get additionally), it will be filled up finely as well. It also mulches properly, if you mount the mulching kit that you can also get separately.
You can get it standard with a wash port for the deck that is separately offered with low valued mowers. With this you can plug a garden pipe to the deck and wash it with the energy of the blades, and you don't have to remove the deck or put the unit upside down.
Poulan Pro gifted its best rider with a swinging front axle with a tight six-inch turn radius. Amazing for a 54" tri-bladed lawn tractor.
Something that P Pro might have done better to optimize this rider is give it bigger rear wheels. These actually shorten the cutting level of the wide deck, that doesn't actually match the hyped four inches due to its 20" rear wheels that are the same that cheaper P Pro models feature. If you are really interested in bigger rear wheels, you have to forget about the dream of your own riding mower (at least a P Pro) and go for a pricier, tougher frame lawn tractor.
Even if it's the best of Poulan Pro's riding mower series, it is yet a purchase worth your money, and it also provides some good stuff. Then, if you are really looking for an awesome lawn tractor and can afford a bit more expensive product, choose the Poulan Pro PP24VH54.
Poulan Pro P54ZX Review
A Poulan Pro Lawn Tractor with Zero-Turn
These machines are much more difficult to learn to drive than most riding mowers. We're particularly talking about the lap bar controlled Poulan Pro P54ZX, numbered 967331001, without steering wheel (Poulan Pro models are without steering wheel). This mower comes with the same cutting deck and motor as the PP24VH54, the best P Pro riding mower. 54" strengthened stamped-steel deck and a Briggs & Stratton 24HP 2-cycle motor. That means that the working speed is the same as the PP24VH54: four to five MPH.
Here we have one of the most affordable zero-turning tractors available. It could be the PB301 among the zero-turning models. It is not recommended for people who don't really need a zero-turning lawn mower. If you want it anyway, you must learn to control this beast before it destroys your entire lawn.
It actually makes the mowing process way shorter, even beside a wide 54-inch rider. But you must learn how to use it. It can cut grass around stuff quickly and turns 180 degrees avoiding the need of moving back and forth. Yet, the affordable home zero-turning models like the P54ZX don't turn around much faster than a riding mower with six inches of turning radius, such as the upgraded P Pro models we've previously seen.
It is difficult to use them on slopes and can't maintain solid lines properly when going laterally on them. The P54ZX works properly just on even ground. Doesn't have enough traction for hilled grounds. It may even slide and sprawl if you don't pay attention.
The rear tires are propelled by a double Hydro-Gear EZT 2200 hydrostatic transmission. This is very common on the most basic ZTR models. It runs properly if you don't try to drag stuff heavier than a bag full of clippings with the tractor. I mean it, don't try to pull heavy stuff cause the transmission won't bear it. That's the reason why towing hooks are not included with the standard.
That apart, the solid construction and high performance of this zero-turning mower is simply as great as the quality of the Poulan Pro riding mowers. It comes with four anti-scalping wheels, a cozy 15" tall back support like the PP24VH54 and a good manually controlled deck leveling system.