If a well-manicured lawn is what you prefer, then the All Power America APT1216 Cordless Reel Lawn Mower will achieve that look. It's a lightweight, battery powered mower with a grass catcher. On one charge, the mower can run for as much as fifty minutes. If ordered on Amazon, you can even get free shipping for the already low priced item. The battery is rechargeable and lasts for as long as it takes to mow most average sized lawns. The grass catcher at the back of the mower prevents the grass from landing on the person using the mower. Also, the mower is pretty lightweight, so transporting it from one place to another shouldn't be a challenge. This mower is best for people with smaller lawns.
According to homendgarden.com, APT1216 runs very quietly so mowing at any time of the day should not be a problem. The five cutting blades can be adjusted to heights between one and two inches. This mower is best used only on grass and for smaller areas. It is a great mower for people who live in more urban areas and have small yards. Those living in urban areas may live in closer proximity to their neighbors than those in the suburbs, so the quiet motor prevents disturbance of any neighboring residents. Also, the removable chargeable battery ads more convenience as the battery can be charged away from the motor if the motor is stored somewhere where an outlet is not accessible. The battery power for this mower cannot be beaten. It lasts longer than even leading, top name mowers. A second battery may not even be necessary for larger areas.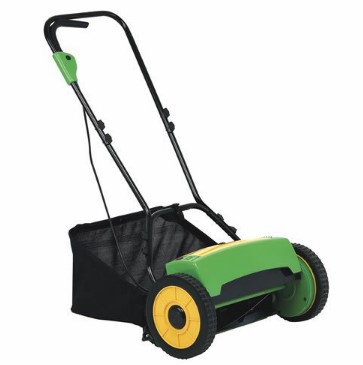 For larger lawns in moister climates, this mower may not be the best options. Purchasers of the mower have expressed complaints about the seemingly flimsy construction of the mower. Many have reported that the mower fell apart upon purchase or after a few uses. In addition, the APT1216 is made mostly out of plastic, so it may not last very long if frequently used or if used on very thick glass. However, since this mower works best on certain types of grass and only or smaller areas, it may not have worked great on larger areas. Otherwise, the mower is easy to put together and easy to use. It provides a well manicured look that only reel mowers can accomplish.
In addition, it does not emit any harmful fumes because it is electric and battery powered. You don't have to worry about refilling it will gas, or with cords that get in the way. Also, the mower is easy to start and use. For people who are lawn care perfectionists and lawn mower experts, this may not be the best mower. But for the average person who just needs a lawn mower to prevent their yard from looking like a jungle, then this model will work. It's not overly complicated to use, is easy to carry and can be stored easily.